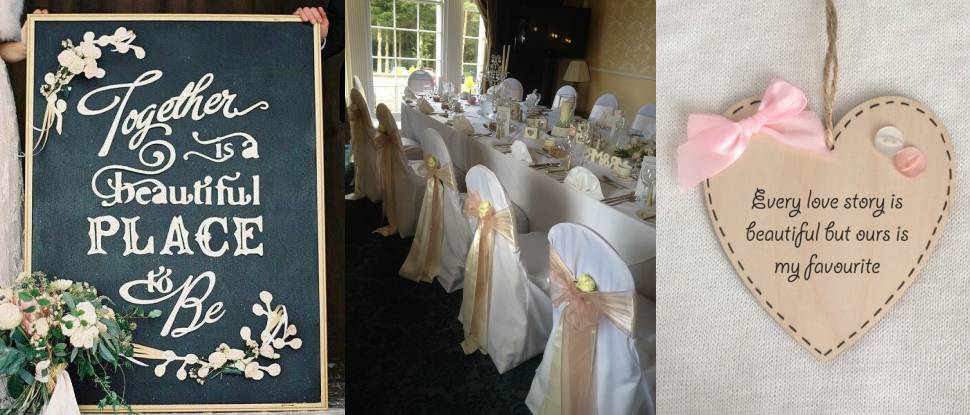 Client Testimonials
If we have been of service to you, we welcome your feedback - Please Add YOUR Testimonial >>
ADDED TESTIMONIAL from: Amanda Ramsay
I really can not thank Laura and her team enough for making our special day just perfect in every way possible, Laura you are just amazing at what you do and we are very grateful for everything you have done for us you went above and beyond to make our day perfect, thank you sooooooo much
OUR REPLY to: Amanda Ramsay
You are very welcome, our absolute pleasure, we wish you all the very best, love and happiness xx
ADDED TESTIMONIAL from: Sharon Skelton
Thank you very much for your services yesterday you made our special day extra special, the rooms were amazing, will highly recommend you
ADDED TESTIMONIAL from: Amanda Harper
Laura,Paul and Courtney did an amazing job decorating our wedding venue can not thank them enough there attention to detail is phenomenal look no further than these guys thanks again
ADDED TESTIMONIAL from: Becks Langford
Laura & Paul have just done the decoration for my wedding at Carlisle Golf Club.. one word.. WOW! It was just beautiful & both Laura & Paul went above and beyond from the moment I asked them to decorate for me they took all the stress out of my hands & sourced everything we asked for.. if your looking for venue decor look no further 10/10!! Xxx
ADDED TESTIMONIAL from: Alison Tyson
I cannot thank Laura and her team enough, we had a wonderful day and it all went without a hitch, Laura you were so helpful and caring through it all from start to finish, our table was beautifully presented and your hard work is so much appreciate by us both, it was the best day of our lives, when I look back I think would I change anything and the answer is no not a thing it was perfect, thanks again Laura xxx
ADDED TESTIMONIAL from: Cheri Harvey
We were delighted with the decorations provided by Laura and her team. From the first point of contact made with Laura she could not have been anymore helpful, it was a pleasure in dealing with her. My wedding table and chairs were exactly what we had been hoping for. The cost was really reasonable compared to other companies. I would not hesitate in recommending Special Events Gretna Green. Thank you. x
OUR REPLY to: Cheri Harvey
Aw thank you so much for your kind comment, love and best wishes x
ADDED TESTIMONIAL from: Meghan Carroll
Fantastic service, laura really couldnt do a better job! She really did a fabulous job making my wedding day just how i wanted, and didnt mind me ringing with all my silly questions! Highly recommend for an easy, reliable service xx
ADDED TESTIMONIAL from: Rachael Douglas
Just like to say a big thank you to Laura for all the hard work you out I to decorating our venue. It was amazing. It was everything we wanted and more.
From the moment I made contact with you, you were so helpful and advised is what you thought was best.
Would highly recommend to any bride planning their wedding.
Love Rachael x x
Mr & Mrs Roberts, Cumbria wrote:
Just wanted to say the biggest thank you for the amazing day we all had, we really could not have done it without you, We were delighted with everything, all the detail exactly how we imagined, the first meeting we had with you I knew we were in good hands, you have given us memories to treasure forever xx
Julie Moore, Wigan wrote:
The room for our wedding was stunning thank you so much, it was everything we wanted and Laura was so friendly and helpful would definitely recommend to anyone wanting a plain room made to look amazing for your special event.
Emma Little, Longtown, Cumbria, Uk wrote:
I would to thank Laura and Paul for going the extra mile and making my wedding day so special and for giving amazing service. Everybody commented on how beautiful the church looked and how amazing skitby house looked.

Laura and Paul came up the night before and decorated the church ...as I was not allowed to see as they wanted to keep it a total surprise for me!!! The church blew me away! Aswell as skitby!!!!

I would highly reccomend them to any body planning to organise a special function weather it would be wedding or party!!!

Thank you so much for the 5 star service and again thankyou for making our day so special!!!

Regards

Emma
David Kirkup, Annan wrote:
A very professional company who made our day very special. They worked their hardest to make our vision a reality, and more than met our expectations. I would advise anybody planning a wedding or any special occasion to get in touch with these guys
Simone Dixon, Essex wrote:
My special day has not arrived yet, but all I want to say is a big thank you to Laura for everything she has done for me so far. Every time I have spoken to her she has been so lovely and professional, putting my over-thinking mind at ease. After looking through her facebook and website I am more than confident she is going to make my special day absolutely perfect!! Cant wait to see what my big day will bring. Thanks again Laura! :) x
kim weldon, liverpool, merseyside, england wrote:
When I married my lovely husband i can safely say it was the most enjoyable day of my life. from start to finish it truly was a magical day and a dream come true. Not only because I finally married the man of my dreams but because I had the best wedding planner in the world. The lovely Laura Copeland. ( My fairy godmother) if ever anyone was meant for the job this lady was. Nothing was to much trouble for her. I booked our wedding 2 yrs in advance and I contacted Laura many times over this period and each time she put my mind at ease. she is also extremely creative she can turn her hand to anything and always adds that special touch, I would not hesitate recommending her to any future bride knowing she will make your day everything you dreamed it could be. My wedding is till a huge talking point with family who attended our special day. This page gives me the opportunity to say a very well deserved huge THANK YOU xxx We are even going back to celebrate our first wedding anniversary in good faith knowing we will be made to feel as special as we did on our wedding day.
Kim Liddell, Menstrie, Scotland wrote:
Laura did an amazing job with our wedding at Gretna hall hotel last year. With a professional yet personal approach throughout she made our day as stress free as possible. We would highly recommend Special Events Gretna Green for an outstanding service giving clients a beautiful table to add a special touch to the day.
stacey sneddon, gretna, Dumfries & Galloway, Scotland wrote:
We hired special events Gretna green to decorate our wedding reception in our local social club, from start to finish we received nothing but fantastic service everything we asked for was completed to the highest standard and nothing could have prepared us for the finished room it was completely transformed and looked stunning couldn't thank Laura enough for her fantastic service and skills, they really made our day xx
(Note: 'Added Testimonials' are created when the Client wishes to Add a Testimonial but prefers not to use the Online facility)
Remove a Testimonial >> - added previously.